Bringing together investors, professionals, and executives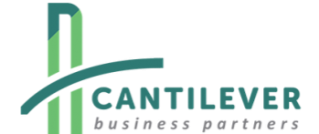 Cantilever Business Partners is a true business partnership between our company, investors in our capital fund, startup business founders and visionaries, and a network of independent professionals. We assemble the best team for each startup, guiding their operation and strategic planning to ensure commercial success and exceptional returns.
Cantilever provides expertise, operational support, and executive management to carefully selected early-stage startups transitioning to the marketplace.
C- LEVEL SEASONED ENTREPRENEURS
Next to Funding, Talent, and support of the early-stage company founders is an essential part of early-stage company success. This often involves embedded fractional C-Level talent when and only when needed. Critical activities include daily oversight of startup activities, strategic acquisition of talent, and support of fundraising efforts necessary to bring the startup to commercialization. Cantilever's talent consists of C- Level professionals with Ph.D. and MBA training, years of relevant industry experience, and real-world entrepreneurial successes.

"The biggest need of many of these tech startups is someone with relevant experience to be a part of the management team to bring the team forward" - Sandra Cochrane, Assistant Dean of WMed Innovation Center

FINANCIAL STRATEGY AND ACCESS TO FUNDING
Beyond simple balance sheets and financial projections, our staff help founders strategically plan their funding efforts and burn rates in order to maximize the use of all $$'s invested into the company. Additionally, Cantilever's network connects entrepreneurs to the right funders at the right time.

"So many of these company founders don't know how to turn their financials into an actual funding PLAN" - Jon Leinonen, MIR Michigan Technological University

ACCELERATION
Cantilever believes wholeheartedly in the Business Model Canvas and Lean methodologies as the most assured way to success. In the words of Steve Blank, "A startup is an organization formed to find a scalable, repeatable business model". We guide startups to rigorously validate their product-market fit, and then quickly accelerate with establishing their first customer, and building out their Go To Market strategy.

We work in the universities as EIR/MIR's, as well as incubators and accelerators, and organizations like MIHQ, a 40-acre innovation campus that houses over 50 early-stage companies.
We work with tech startups in many different fields, from manufacturing, life science, MedTech, materials, etc. We are tech-driven, but tech agnostic, as the creation of a business model stands on its own, independent on the technology being developed. We work best with tech startups that are just starting to show commercial promise.
Over the past 4 years, we have helped raise over 5.0 million in grants, spun out 6 university technologies, and raised $5.5 million for over 10 startups (all pre-revenue and pre-product)